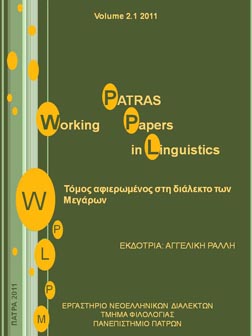 During the period January 2009-December 2010, the Research Team of the Laboratory of Modern Greek Dialects, (LMGD, University of Patras) has conducted a research on the dialect of Megara, funded by the research project 'From the Dialect of Megara to the dialect of Old Athenian' (project code: C612, Leventis Foundation. Coordinator: Prof. A. Ralli).
The present thematic volume of Patras Working Papers constitutes a special collection of papers, which reflects the results of this research project.
Since LMGD aspires to serve as a link between the scientific and the local communities for the preservation of their linguistic and cultural heritage, we hope that the present volume will contribute significantly towards this direction.